Our Process
Initial Consultation
Once contacted by a potential client we will schedule a place and time to meet in order to discuss the scope of the project, budgets, and other vital information. During this meeting we are interested in discovering the client's wishes for the space, what is liked about the space as it is, what challenges are being faced, and what is to be changed. The client's thoughts and opinions are always vital to our process, especially during this initial meeting. If there are plants, materials, colors, etc. that you like or dislike, we want to know. Following this meeting, we will prepare our proposal for services to be provided which we will present to you personally. The proposal will fully outline each drawing we intend to complete, a timetable for when the drawings shall be completed and terms of our service. We like to present these personally so that we can immediately discuss any questions or concerns you may have. Our initial consultation and proposal are free of charge.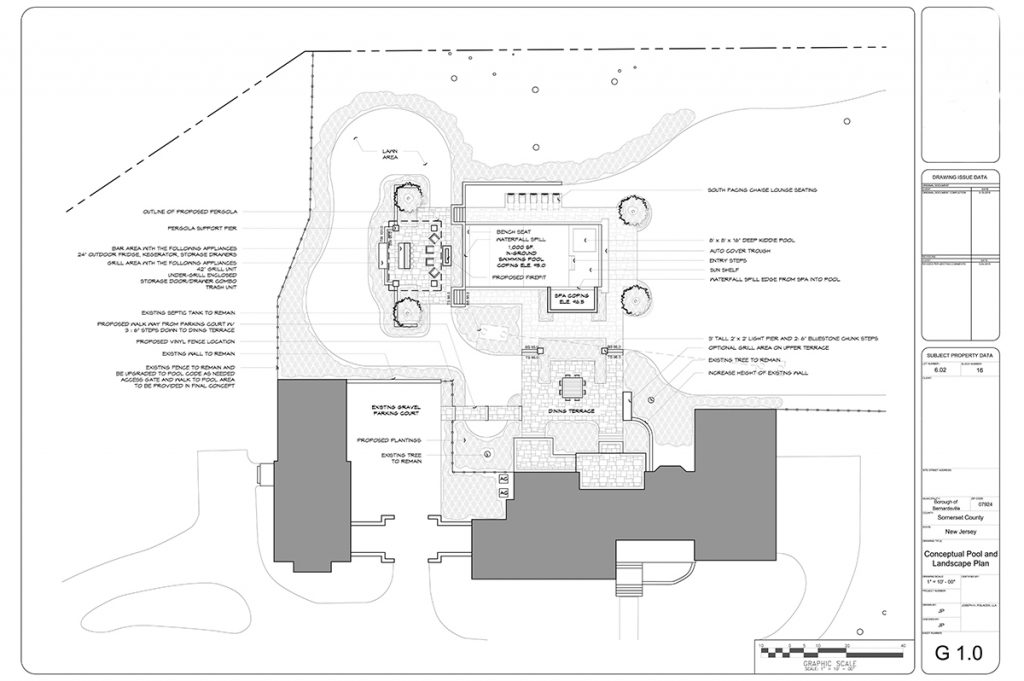 Conceptual Design
After a signed proposal is received, we will complete our initial concept design. This will encompass all things discussed within our meeting and should you grant us permission to be creative, the design may include additional features beneficial to the aesthetics or functionality of the project. In order to ensure clarity of the design, the standard plans may be accompanied by color renderings, photo-realistic imagery, three dimensional digital or physical models, diagrams, section drawings or construction details. Once these are completed we will contact you in order to establish a date, location and time to meet in order to present them to you. During this meeting, we invite questions and criticism. This is your project, the main focus of our process is to ensure that you enjoy the final product and feel secure in that the investment you made was the right one.
Master Planning
Following our initial concept presentation, we will record, digest and integrate your comments into the design. Though our goal for this stage is to establish a final set of drawings, ready for construction, we invite further comments and will gladly revise the drawings until what is on paper directly represents the visions and goals for the project. These finalized plans will be what we need in order to fully understand and accurately construct the project. This is also where we attempt to address any possible issues.
Design
Sun Country Landscaping design team specializes in the creation of unique outdoor living spaces that are both aesthetically beautiful and elegantly functional. Over the past 20 years, we have developed a personalized approach to the design and construction process that allows us to provide our clients with landscapes that thrive in their environment and stand the test of time. To start the planning process we will complete a thorough site analysis and investigate local and state requirements. All of this information will give us a good understanding of the opportunities or possible constraints your project may have. We may also collaborate with architects and engineers at this time. We will utilize a combination of 2-D site plans and 3-Dimensional photo-realistic digital renderings. This allows our clients to see their landscape prior to making a financial commitment to the construction process. We want our clients to feel confident that they are getting the most out of their outdoor space. Sun Country Landscaping sets itself apart from the competition with an unmatched ability to communicate our designs to our clients. Seeing is truly believing!
Our Design Process
Plans
A solid, accurate plan is the foundation of any construction process. Seeing problems in the design phase can greatly reduce project duration and construction costs. The site plan is not only a cost-effective design tool, but it will also serve as the blueprint our installation crews will use to build your landscape.
Renderings
Sun Country Landscaping wants you to feel confident in the investment you are making. Achieving this is impossible without showing you what exactly your investment is. Our designers are masters at preparing digital photo-realistic renderings of what your project will look like once completed. You may have seen these types of images on HGTV shows such as "Property Brothers" and "Fixer Upper". Our designers utilize the same software programs to bring our clients projects to life in a way few other firms can. Seeing is believing.
Videos
Utilizing the same software used to create our renderings, Sun Country Landscaping's designers create unbelievably realistic movies of your project. If a picture is worth a thousand words, the videos are priceless!